We are
Union Animal Hospital
formerly
Affordable Pet Dental Plus
Union Animal Hospital is a locally owned and operated full service Veterinary clinic. Our Veterinarians see a variety of household pets including dogs, cats, birds, small mammals and some reptiles/amphibians. We do not offer care for farm animals but we have recommendations to colleagues in our area. We have recently changed our name to better reflect our services. While many small family owned offices are becoming corporate owned practices rest assured we remain a locally owned and operated veterinary clinic. We strive to provide affordable pet care without compromising the quality of our patient care. We offer wellness care, preventative care, parasite screening, diagnostics, medicine, dental and surgery. Rest assured we have no affiliations with any corporate owned veterinary hospitals we are 100% locally owned and operated.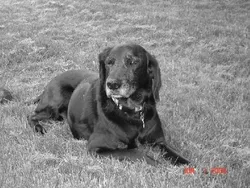 Dr. Sutton's First Patient- Her Beloved Tami (10/1995-10/2012)
Union Animal Hospital was started in 2013 but under the name of Affordable Pet Dental as the office only offered basic dental care. In 2015 the practice was going to close as the founding Veterinarian was moving away. When Dr. Sutton heard of this she stepped in and offered to purchase the small start up practice. Dr. Sutton liked the concept that was started but wanted to take it to the next level by offering affordable full service veterinary care. Dr. Sutton officially took over on April 1st 2015.
In the Fall of 2018 we began to start the process to change our name to Union Animal Hospital. This change has been a long time coming as we have grown from a simple dental only office to a full service veterinary clinic. Our hopes are to continue our growth so that we can further increase our availability to our wonderful clientele. Our office plans to fully drop the original name Affordable Pet Dental Plus by the Summer of 2020 so update your address book.
Rising Costs of Veterinary Care
We are well away that veterinary care is getting more expensive each and every year. Most of this is out of the control of the Veterinary Office's providing care and directly related to the high overhead needed to operate a Veterinary Hospital. Unlike human offices it takes 2-3 skilled people to examine and handle one patient, hence why you see so many amazing assistants and technicians around the office. Our patients can't talk to us to tell us where it hurts meaning we rely on diagnostic tests frequently to determine your pet's ailments. Sadly, Veterinary Offices are at the mercy of their vendors, suppliers, and the state and federal laws and taxes. This means that as businesses we have to ensure we charge enough to cover our costs, taxes and pay our dedicated employees. Our office is not immune to the rising costs of supplies, care, taxes, maintenance fees and equipment but we are working very hard to maintain the high quality care we provide as affordably as we can.
We strive to be Affordable but do not want you to assume that means we are cheap or a low cost high volume office. We are not able to be a non profit company as that restricts what we can provide to our clients. This means we don't get the tax breaks of a non profit, which is a bummer, but we also are not restricted on the services we provide or who we provide them too. Of course the definition of affordability varies slightly by interpretation but what it means to us is that we strive to provide the fairest possible price for the veterinary services we offer while still ensuring we are able to go above and beyond while caring for you pet's. Veterinary care can be expensive for many when done well and while we want to be as affordable as we can we do not want to take unnecessary risks that may jeopardize your pet's health and safety. Sadly in this day and age the costs of veterinary care are skyrocketing thanks to pharmaceutical costs, taxes and general costs of doing business. This means that we have to adapt but we work hard to navigate this complicated aspect of our veterinary medicine to try to help you afford the high quality veterinary care we offer. The quality of the work we do and the safety of your pet are a priority at our office. With that in mind please remember that when comparing veterinary care between offices it is not apples to apples. Not all offices offer the same techniques, anesthetics or monitoring. While we strive for affordability we promise to never compromise your pet's care, health and safety to be cheaper. You can trust that we are providing you and your pet's with the highest possible care at the most affordable price possible.
New Location - WE MOVED June 2019
Our new space is comfortable for our clients, staff and most importantly our patients. We have leased a larger space at 2225 E Sprague Ave, only a short distance from our previous location. The new office is more comfortable and spacious. We now have 5 exam rooms, larger lobby space, a larger treatment area, larger surgical suite, more accommodating patient wards and all of this will help to reduce wait times for clients and streamline your pet's care. We hope you enjoy our new facility as much as we do. We are happy to offer tours during slower times and our hope is to have an open house soon.